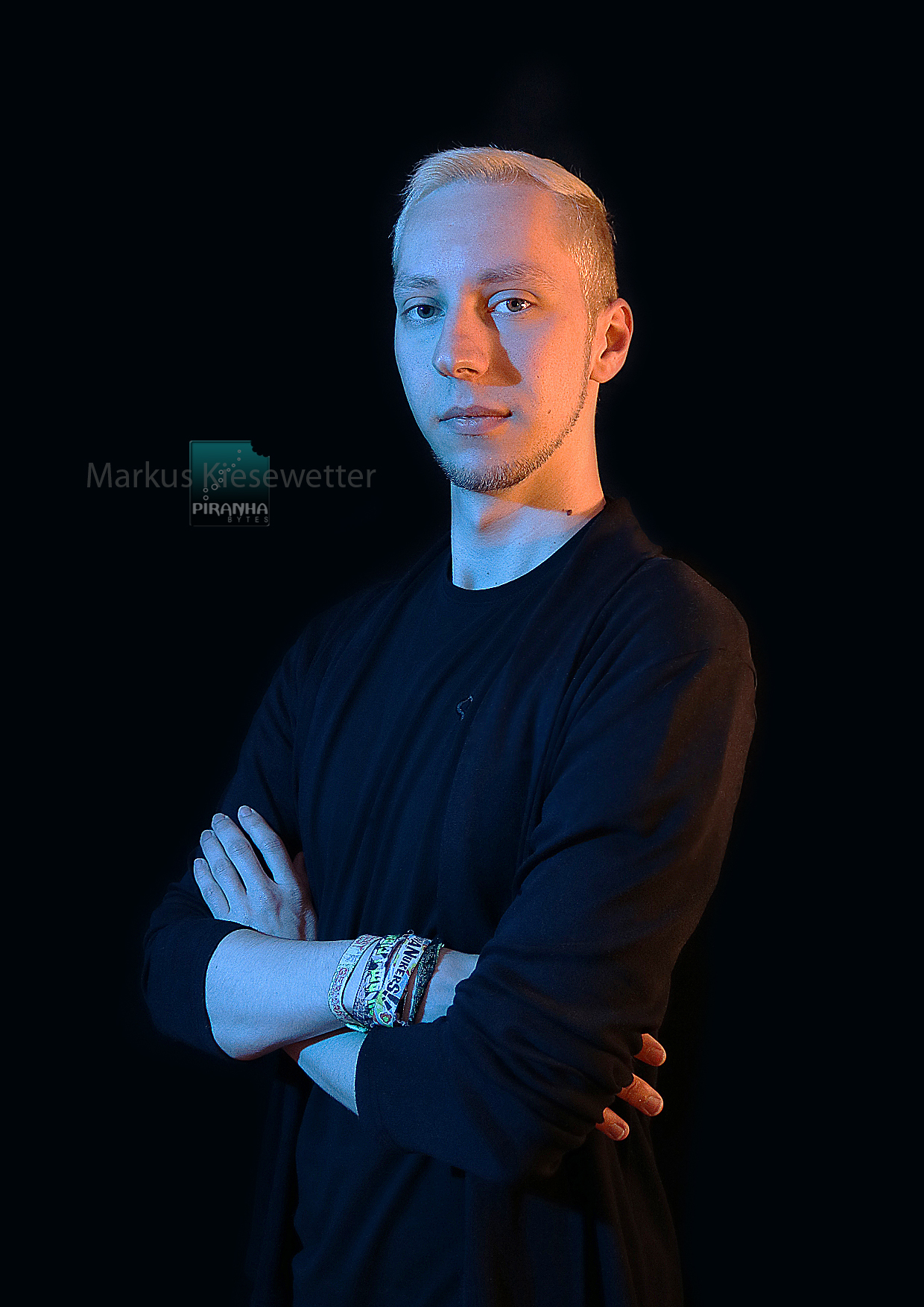 Markus Kiesewetter

Occupation at Piranha Bytes: 
3D Environment Artist
Birthday: 
27.04.1993
Vocational training: 
Gamedesign B.Sc.
Favorite Music: 
Dubstep, Hybrid Trap, Drum n' Bass, Metal, Stoner Rock, Synthwave
Favorite Game(s): 
League of Legends, World of Warcraft, Dark Souls 3, Alan Wake, Pokemon Silber, Stardew Valley, Stronghold, Age of Empires, SSX (2012), Halo, PlayerUnknown's Battlegrounds, Darkest Dungeon
What are your strengths? 
Take photos of my cats.
Annoy the office with photos of my cats.
What can't you stand? 
Tiles, milk in coffee, pineapple on pizza

What are you enthusiastic about, what are your hobbies? 
Listening to / making / mixing music, reading books, trying to keep my bonsai alive
What do you prefer when gaming: PC or console? 
Always depends on the title.
What kind of films or series do you particularly like to watch or do you watch often? 
Once a year I watch the Lord of the Rings Extended Trilogy.
The rest of the time, I'm a Netflix based life form.
What kind of feature would you like to see in a game? 
Deep learning AIs.
Are you afraid that you might run out of ideas for a game at some point? 
Nope.
Where do you find the inspiration for your work? 
At Artstation or in my own games library.
Which game from other studios are you eagerly awaiting and would like to play through? 
Animal Crossing New Horizons, Hellblade 2
If you weren't working in the game industry today, what would you have done otherwise?
Did you originally have a different career goal? 
Animal caretaker.
© 2020 Photos by Piranha Bytes / Pluto 13 GmbH
© 2020 Interview by World of Elex + russian provision by Elind & PontifEx +
+introduction & english provision by Ravenhearth + image processing and german provision ArthusoKD +