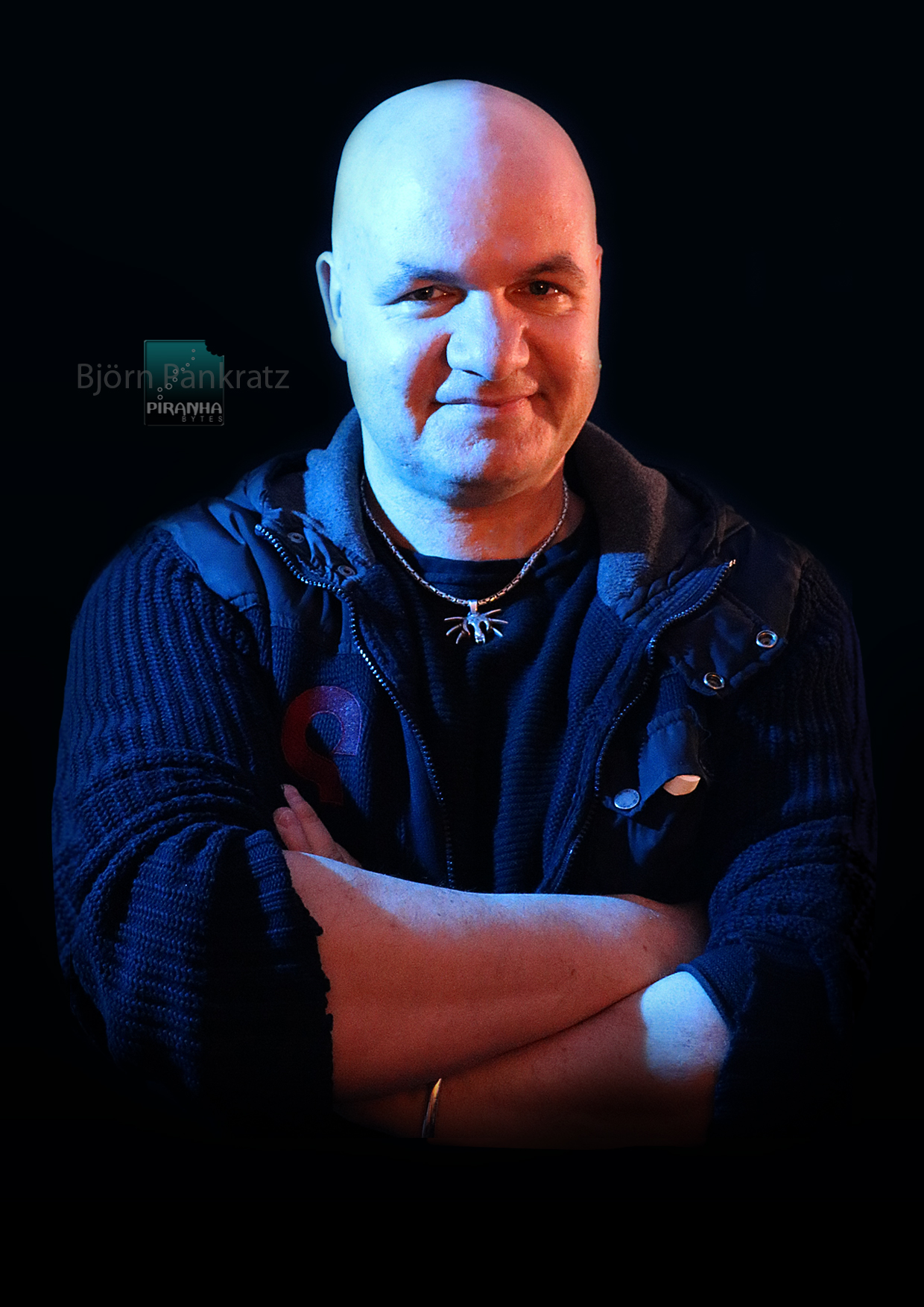 Björn Pankratz

Occupation at Piranha Bytes:
Creative Director, Game-Designer, Head of Story, Sound Designer, Music Composer
Birthday:
22.08.1970
Vocational training:
Teacher training course secondary level II in physics and chemistry
Worked on the following games so far:
Gothic, Gothic 2, Gothic 2 Addon "Night of the Raven", Gothic 3, Risen,   Risen 2, Risen 3, Elex
Favorite Music:
Women electro. So stuff like: Depeche Mode, Rotersand, Neuroticfish, VNV-Nation, Covenant and Project Pitchfork. But also rock-metal stuff in the 80s style. Such as: Bon Jovi, Whitesnake, Billy Idol, Iron Maiden and Metallica
Favorite game(s):
Ultima Underworld, System Shock, Mass Effect, Fallout, Deus Ex, Last of us, Days Gone
What are your strengths?
Well ... there are a couple of things that I'm really good at now. Where there is a will, there's a way.
What can't you stand?
I actually need a lot more serenity. Then I wouldn't have to worry anymore about things that I don't like.


What are you enthusiastic about, what are your hobbies?
A lot. But gaming, watching series and singing are currently far ahead.
What do you prefer when gaming: PC or console?
Well, the console is a bit more comfortable, isn't it?
What kind of films or series do you particularly like to watch or do you watch often?
My old hats, which I keep digging out, would be: Miami Vice, Lie to me and Mentalist. But also fantastic things like Star Wars, Star Trek, Babylon 5, Lord of the Rings, Game Of Thrones, and many, many others ...
What kind of feature would you like to see in a game?
Almost everything is there, except smooth VR in realistic graphics and with light, barely noticeable glasses. But who doesn't want that?
Are you afraid that you might run out of ideas for a game at some point?
There is no such thing as being without ideas. Technically, we have a framework that we have to adhere to in order to implement all of our ideas.
Where do you find the inspiration for your work?
In every popular film, game or series there is always this certain content and concept that is worth taking a closer look at.
Which game from other studios are you eagerly awaiting and would like to play through?
Cyberpunk 2077
If you weren't working in the game industry today, what would you have done otherwise?
Did you originally have a different career goal?
Difficult to speak of a "original career aspiration" therefore. Before I was 37 years old, I wasn't really stable and had no idea what I wanted to be.
Rock singer maybe.
You can find more about me here:
https://www.facebook.com/bjorn.pankratz
© 2020 Photos by Piranha Bytes / Pluto 13 GmbH
© 2020 Interview by World of Elex + russian provision by Elind & PontifEx +
+introduction & english provision by Ravenhearth + image processing and german provision ArthusoKD +